the Dawn Museum of Dreams
Baja, Felucca
"After a year in the making, I am proud to present to you the Kingdom of Dawn's newest attraction - the Dawn Museum of Dreams.
The Dawn Museum of Dreams is in the southern region of the Kingdom of Dawn, on the Felucca facet of the Baja shard. The Kingdom of Dawn, a player-run city and home to Baja's oldest Role-Playing guild, is located just east of the Dungeon Wrong. Information on the Kingdom of Dawn can be found at the following website: http://www.kingdomofdawn.com, And maps to interested visitors can be found here: Location of the Kingdom of Dawn"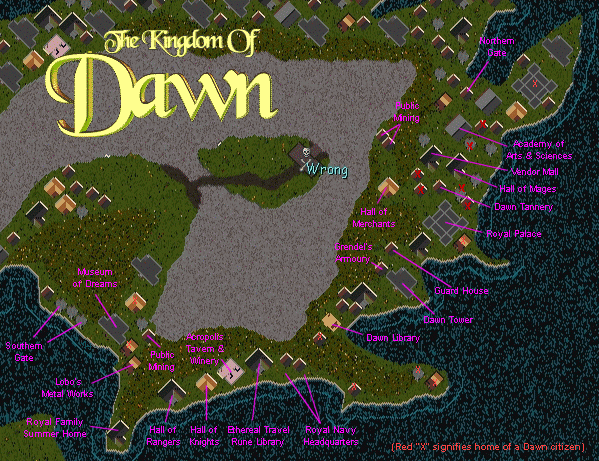 Now, please follow along as I, Vengence, Curator (and Designer) of the Dawn Museum of Dreams give you the grand tour!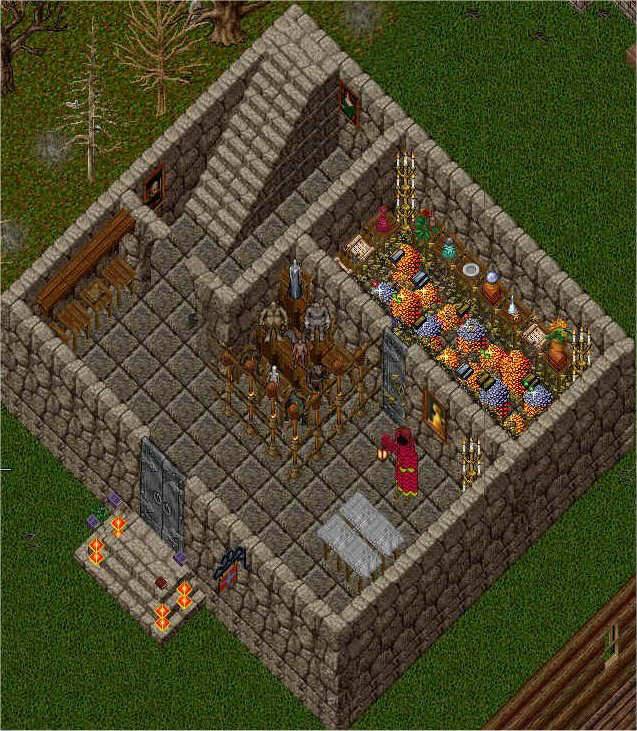 "The Treasures of the Implementors"
Past the Guestbooks and the Book of Dreamers, floating above the Crystals of Power on the steps, you will find our menagarie of foul beasts, kept safely behind bars, and our "Treasures of the Implementors" room, where some of the items bestowed upon Brittania by the Implementors lie, watched over by our ever-vigilent "GM".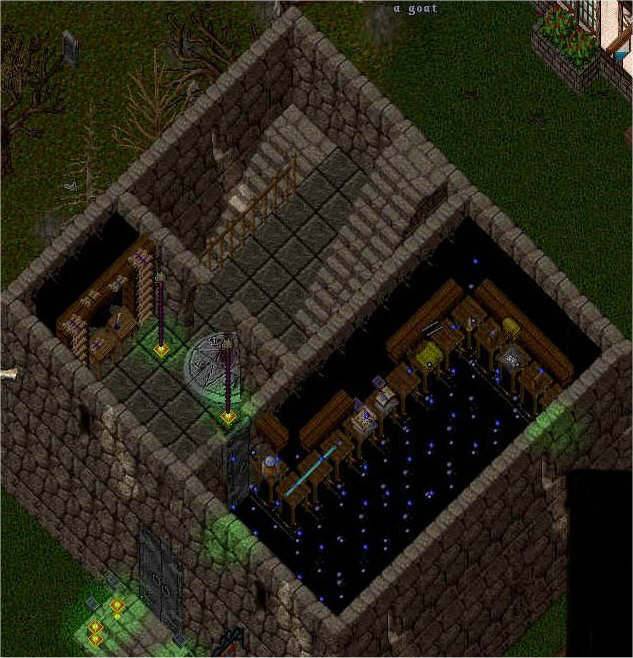 "The Ethereal Chamber"
A dark mage's study, unlike any you have ever seen before, where items of incredible power and rarity sit in a chamber comprised of the very Ether itself, glowing with unimaginable power at night.
NOTE: Of particular interest, the "glowing" effect in the "ether" at night has been specifically designed so that it is only visible once you set foot inside the "Chamber" itself. You can see this effect below: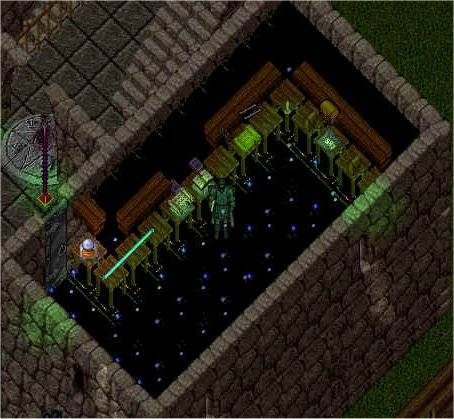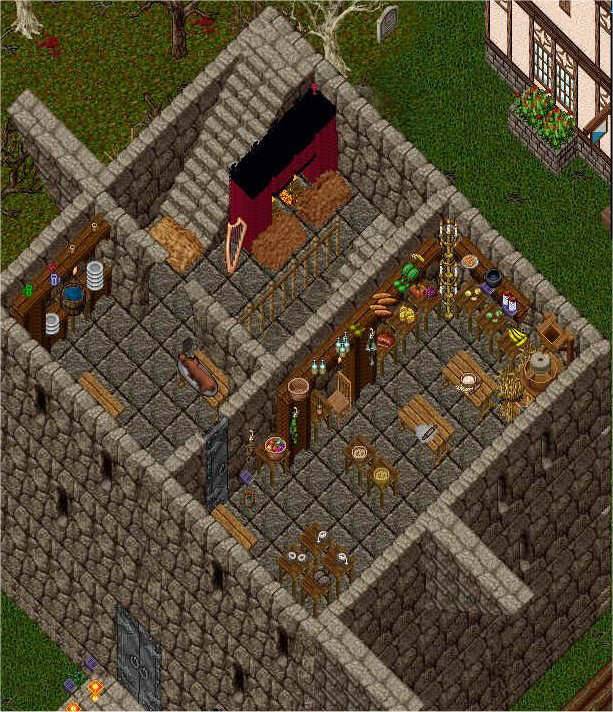 "The Royal Kitchen"
Warm yourself by the fireplace, and relax in the cozy atmosphere of a bustling kitchen, with exotic foods from across the lands - complete with everything you could need, right down to the kitchen sink!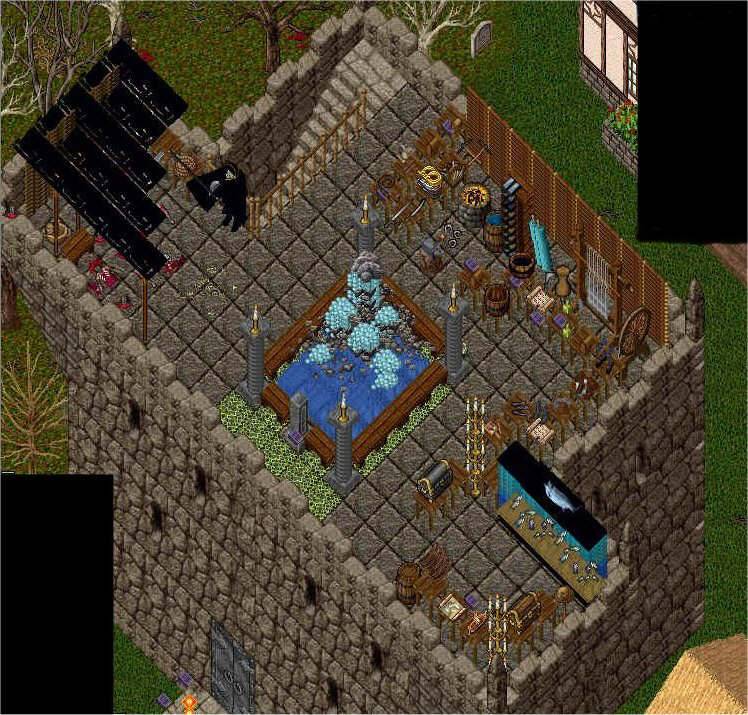 "The Armory and Workshop"
On the north side of the fourth floor, you will find the Armory and Workshop, where citizens may toil at their crafts, among displays of tools from both past and present!
"Oceania"
In the east wing of the fourth floor, visitors will find a small display, dedicated to those who practice in the aquatic arts!
"The Slaughterhouse"
Avert your eyes, fair maidens, and warriors, steel thine innards! A rough tarp covers this gruesome display from casual viewers, but underneath, visitors will find displays of the strange and diseased!
For a view inside "The Slaughterhouse":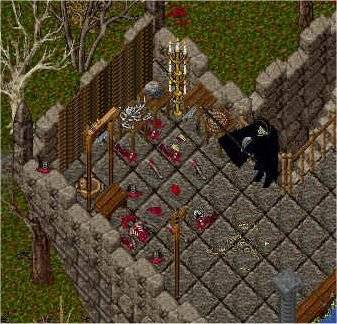 "The Guardians of Virtue Memorial Fountain"
In the very center of the 4th floor, a display towers above the rest. Relax amongst the peaceful sounds of a rushing waterfall, and study the original guildstone of one of Baja's oldest Role-Playing guilds (and oldest still in existance today, as the Kingdom of Dawn), the Guardians of Virtue.
I hope you have enjoyed this brief tour, and look forward to seeing you in the Kingdom of Dawn!
Signed,
Vengence
Baron
Curator of the Dawn Library and the Dawn Museum of Dreams