.

Interview with Lord Casca, Part II



Please see Part I of my interview with Lord Casca published two days ago…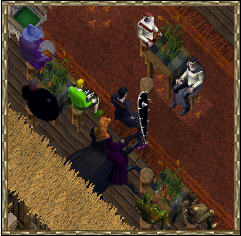 LC: Sometimes it is necessary for a kingdom to push for a little more from its people, for everyone's sake. Do not worry, I hold myself to the same standards. There will be no lavish Magincian or Nujel'm styles in my court.


It was at this point that the gathered citizens spoke up on the topic of taxes, and how raising them would affect their lives.


LC: Taxes are always a difficult topic. I know that for the poorest of our citizens. Each coin is a portion of a loaf of bread, each ingot is a teapot or skillet, each board a bit of roof. I will do my best to make the taxes fair and no more than they need be, but I don't have the details. Hopefully we will be able to find another way to pay for the war. My Minister of Finance is still going over the Royal budget. The Royal Guard will probably have to wait for salaries until after the war.


Red of DC*: How can the average citizen help in the upcoming war?


LC: The upcoming war. That is a good question. Joining the Royal Guard or joining a faction of Virtue is a good way.


Red of DC*: But a lot of us are not warriors, I alone am but a simple crafter with no fighting skills.


LC: Can you repair the weapons of war? Can you cut cloth into bandages? Can you organize and sort potions, arrows, and other provisions of war?


Red of DC*: Aye, I can try my best.


LC: Then there is your place. In the invaded cities, we don't have enough support personnel. We need people able to gate in and setup healing stations and supply depots in a hurry. I'm not an expert on these, but I do understand their value. Would you be willing to lend your help to such a branch of the guard?


Red of DC*: If they would have me, yes!


LC: Until Tomas returns and we have more formal leadership, it will have to be an informal arrangement... But keep your beetle stocked and ready! When you hear of an attack, be ready to recall in and help setup a station.


MZ: Captain Savos is away?


LC: Captain Savos is visiting the islands to recruit.


Aluriel of C*L: With you as king are we just waiting for British to come back or what? No offense of course...


LC: I am King pro-tempore, temporary king. We need clear leadership in this time of strife. With Lord British unavailable, the Royal Council chose me to fill this temporary role.


Aluriel of C*L: Until? Lord British said he wasn't coming back. I heard him.


LC: He has the support of many, and many of us hope he will find a way to return. He was very likely being humble in his abilities. However, should he never return, I still am only King pro-tempore.


Aluriel of C*L: That would be nice if he came back, of course again no offense.


LC: None taken.


Aluriel of C*L: Do you know what your first action will be as King?


LC: The best way to answer that is with Lady Z'muir's next question...


MZ: How do you plan to end the terror the FoA and the Shadowlords have represented for years?


LC: My first action is to end the terror of the enemies of Britannia. The FoA, the Shadowlords, the vile factions, and all our enemies. We must strengthen our military. We must be able to combat the enemies of Virtue. Lord Savos will recruit for the guard. And most of you will serve some task in this new Guard. Whether as warriors and mages on the front lines, or crafters and healers in supporting roles.


Aluriel of C*L: A draft?


LC: Nothing so formal, as of yet. I trust the people of Britannia value their freedom and Virtues enough to stand up and fight. Your guilds will be useful structures in the Guard, as individual units in the war. Each with their own tasks they do well: Crafter guilds mining ingots for the weapons of war, Mage guilds researching and mastering spells of wall and flame. Warrior guilds standing together against orcs in Trinsic and dragons in Britain. I suspect our enemies have resources we have not yet seen. They may pillage and rob our cities, but we may be forced to take their weapons and resources. Hopefully these potential spoils of war will encourage the more mercenary elements of our people.


MZ: Do you plan to work with the civilian High Council to help bring order to the realm?


LC: The civilian High Council group has provided a useful service over the years. While my resources are limited due to the war, I do encourage their efforts. I hope that despite missing members and resources, they continue to fill this role. I look forward to discussing more details with them in person, and I will arrange a time shortly.


Red of DC*: How will we be able to tell friend from foe?


LC: Honesty. Honest people tend to know the truth more than dishonest. We must be honest with one another.


Aridas: Ok, easier question do we have friends?


LC: Yes, we do! How much help they will provide is a difficult question, however. The elves and Meer have always been good friends to us. Fae creatures such as pixies love Virtue. Tokuno has an open boarder with us... Nujel'm has always been our friend, as has Occlo's matriarch... Am I forgetting anyone? We are not alone, but we are most likely the most powerful force for good at this time. Another question?


MZ: Sherry the Mouse has appeared recently suggesting caution in embracing your reign and to give you time to settle in your new role. What do you think of her words?


LC: Sherry the Mouse is the most loyal non-human being I've ever met. She was a friend to Lord British. She has been a friend to our people for years. Her words are reasonable. I question my own competence to lead sometimes. However this isn't the time for doubt. This is a time for clear leadership and direction. Sherry is loyal, and I hope in time she understands that we need to focus on the Shadowlords.

MZ: Speaking of Sherry, many citizens are concerned for her safety since the appearance of Lord Grey's mousetraps. There are several within Castle British, mainly around her well-known mouseholes. Citizens are puzzled by these trap placements if they are designed to trap rodents which threaten crops to the west of the city - on the other side of the moat surrounding the castle. Many people find the danger to Sherry unacceptable, and suspect something amiss. Not being one to perpetuate conspiracy theories, but I would like to know your thoughts on this..


LC: Since this was the first I heard of the traps, you must bear with me. One of my servants mentioned there is a mouse problem in Britain. He saw a few during his walks to get fresh fruit for the castle pantry, and he asked me if he could talk to the Minister of Agriculture about it. I gave him permission. I guess Lord Magnus took initiative and placed the traps. If there is some fear that innocent pets and loyal allies will be hurt, I will have the traps removed. Shall I ask Lord Magnus to remove the traps?


A resounding chorus of "AYE!" sealed the mousetrap's fate.


LC: Very well. He returns shortly, I will write him a note... He isn't always the most competent of ministers, so you may need to help him find all the traps for removal. Can I trust you with a note for Lord Magnus?


MZ: Of course, my Lord...


Casca then stood and made a brief stump-speech before the assembled citizens.


LC: Expect the war to continue, and know we will probably try to force a confrontation with the leaders of the Shadowlord army. I can't tell you exact details yet since it depends on military intelligence and various reports. All I can say is be ready.


Aridas: You mean to pick a fight?


LC: Yes! We're going to pick a fight with the Shadowlords before this is done. I think we can win if the Virtues guide us.


MZ: Thank you for your time and candor, Lord Casca!


Lord Casca left us to return to Castle Blackthorn to prepare for meetings later on in the day. On a tip, I went to Yew looking for Lord Magnus Grey, the new Minister of Agriculture, to deliver the King's mousetrap order. Fortunately, my search was brief, as I found him looking somewhat befuddled outside the winery just south of Empath Abbey. Once informed about Lord Casca's order, he was gated to Britain where he began the tedious process of dismantling each trap.

Thankful that Sherry had thus-far avoided a grisly fate, I traveled about the capitol with Lady Silverbrook and Red of DC*as we witnessed each trap's demise. Lord Grey commented on the fact that so far the traps had been completely useless - not a single rodent had been captured or slain. Eventually, Lord Grey had to part company with us as several traps remained in places closed to the general public. However, he said he would meet us at the Salty Dog tavern for a drink when he was finished.


Upon his arrival, Lord Grey said that he wished to get something out in the open before rumors and innuendo about his past began to surface. Apparently, Magnus Grey was once incarcerated for 'forgery and questionable paper pushing'. He says that he served his sentence fully, but that he could not go into the details. I questioned him as to whether this should have disqualified him from holding a Ministerial position, and his response was a simple "Not exactly."


Red of DC* asked Lord Grey about the red kryss he wields, and about its curious inscription of 'Back Alley Deals'. Lord Grey stated that he found the weapon in the closet he uses as an office on his first day of duty. Regrettably, the Minister of Agriculture soon had to depart so he could complete various reports for the King.


Two weeks ago we were a land in turmoil - only the High Council stood as a governmental entity. Only your martial skills and spells kept the Shadow Army at bay, and our cities defended. Now, we have a new Royal Council, new Ministers...and a new King. Love him, or hate him, Lord Casca leads Britannia.


Will you follow?


Martyna Z'muir, Library of Sosaria