Last friday evening one of the oldest community of Drachenfels was able to celebrate it's 10 years anniversary! As last year, the guild of the Miliz vom Tempel des Baphomet (MTB) had invited everyone to celebrate their jubilee, this time with a tournament for mages. A nice group of citizens had joined the party at their Baphometic Trade Centre near Trinsic. Shortly before, there was a gateservice from the main towns which lead several people to the event by surprise.
The people were registering slowly for the tournament. I decided to join them too, but my last experience at a smiliar occasion was long ago and my form and fitness was not really outstanding... but Illuminatus' hint: "Trust us!" convinced me to do so. I received a bag with reagents, two runes, a spellbook with the insignia from MTB and a nice violet colored robe. After a short visit home where I put all my stuff in a secure location I was back again at the Baphometic' Trade Centre, in good company with the other participants. The journey to the tournament in Felucca was about to begin.
Shortly after, the participants Amun, Kane, Rincewind, Zalazar und my humble self as well as the guests and the members of MTB were swarming through the moongate. We spotted a small ruined building nearby, surrounded by bald trees - this should be the scenery for the following tournament. After a brief check from the organisers for additional reagents, banned items or spellbooks with the participants, we could finally start. The upcoming tasks were announced and the rules explained. One could win points after a simple victory or with the help of your creativity. We were also introduced to our test person of the evening, Jaina of MTB - she would be the "living target" for tonight... what a lion-hearted woman she was!

MTB members greeting the guests
Die MTB Mitglieder begrüssen die Gäste

The tournament is about to begin
Kurz vor dem Turnier wird noch gescherzt und gelacht
The warm-up started with a test to check our fighting powers. It was equally distributed among the attendants, but Kane was the first to snatch a point. Now, the first 'real' task could start. Jaina's exclamation: "Come on, try harder!" inspired our ambition. But to our surprise there should be a very short quiz with three questions - any entrant was asked to prove their expert knowledge! Some were brilliant with fast answers, but the points were shared evenly amongst us.
The next part was also fascinating - three spells had to be spoken onto our living target (meaning: Jaina) with the foucs on causing as much damage as possible. She was calm like a rock and was healed by her brethren between the spells. Meanwhile, thanks to a spellcasting icebear and a summoned alligator we had a good laugh, and we shared the points - again - evenly amongst us.
After this task the next one was afoot - our quickness was now in demand. The main goal was to mark a rune at a given place, and return to the Baphometic Trade Centre as fast as possible. Shortly after it was clear that the place was the Zoo in Moonglow, the participants were dashing away quickly... some of us with detours via Jhelom because of the Invasion armies. After meeting at the Baphometic Trade Centre we returned to the place in Felucca where our last and final task awaited us.

Getting our tasks and rules explained
Die Aufgaben und Regeln werden erklärt

Jaina, the living target, cheering to the participants
Jaina, unser lebendes Ziel, feuert die Teilnehmer an
This time we should hit our living target, Jaina, as much as we could and lowering her hitpoints to a dangerous minimum, but without killing her. The tension was high with the participants, who would show nerves of steel? Kane started and accomplished fourteen hitpoints. Amun - in the shape of a spellcasting icebear - managed to get eight. Zalazar sent Jaina to the shadows and killed her with his last spell - he had to face the disadvantage of five points. Rincewind and I got down to five hitpoints and therefore managed a draw.
After that, the organisers checked the points and unfortunately had to disqualifiy one participant because of additional reagents in his backpack. Again we managed a tie - the final was between Kane and my humble self. It should be a duel, but two others should bear the brunt - our summoned Deamons "Kane" and "Holzhammer". The fight itself was a short affair because my tactic with bless and strengthen did not work out. Kane's Daemon defeated my red-skinned companion.
Shortly after the first congratulations the whole group went back to the Baphometic Trade Centre. The members of the MTB gathered everyone around and handed a very noble gift to every single guest and participant - a golden dagger with the insignia of MTB. The three winners of the mages tournament received an additional, generous gift. As the first guests set out on their journey home, the others were invited to meat and drinks. We took some trips down memory lane and cheered and laughed about old times. Also, the three armours which were displayed nearby reminded us of past times - even today's armours could barely match them. In this spirit I took a detour through the old auction halls where I put the golden dagger in a place of honor - close-by to the sword with the insignia from the 9th year jubilee from last year. And it seemed to me that the two blades were sparkling for a few seconds in the cold, quiet, moonlit night...
Happy Birthday, MTB - and cheers to the next ten years! ;-)
***

Zalazar's spells were too enthusiastic
Zalazar's Zaubersprüche waren zuviel des Guten

The announcement to the final
Der Final wird angekündigt
Am vergangenen Freitag konnte eine der ältesten Gemeinschaften auf Drachenfels ihr 10. Jahres-Jubiläum feiern! Die Gilde der Miliz vom Tempel des Baphomet (MTB) hatte zum Fest und zum Magierturnier geladen. Wie schon das Jahr zuvor gelang dies gut, denn zahlreiche Gäste fanden sich zur achten Abendstunde ein. Kurz zuvor hatte ein Gateservice von den Hauptstädten Sosarias auch einige Überraschungsgäste zum Event mitgebracht.
Zaghaft begannen sich diese für das Turnier anzumelden. Schlussendlich überwand ich mich dann auch daran teilzunehmen, denn meine letzte derartige Turnierteilnahme war doch schon sehr lange her, so dass ich mich nicht gerade in Form und Fitness dazu befähigt fühlte... aber Illuminatus' schelmisches: "Vertraut uns!" überzeugte mich dann doch. Ich erhielt einen Beutel mit Reagenzien, zwei Runen, einem Zauberbuch mit den Insignien der MTB und eine hübsch violettfarbene Robe. Nach einem kurzen Aufenthalt zuhause, wo ich meine ganzen Habseligkeiten deponierte, fand ich mich gleich wieder vor dem Baphometic Tradecenter in Trinsic, in guter Gesellschaft gleichgesinnter Turnierteilnehmer, ein. Die Reise nach Felucca zum Turnierort konnte beginnen.
Kurz darauf strömten die Teilnehmer Amun, Kane, Rincewind, Zalazar und meine Wenigkeit sowie die Gäste und die Angehörigen der MTB durch das Mondtor - eine kleine Ruine mit kahlen Bäumen umgeben sollte für das Kommende scheinbar die Turnierkulisse sein. Nach einem kurzen Check der Turnierleitung, ob unerlaubte zusätzliche Reagenzien, Gegenstände oder Zauberbücher bei den Teilnehmern vorhanden waren, konnte es losgehen. Die bevorstehenden Aufgaben wurden angekündigt und die Regeln erklärt, nach denen man nach Sieg oder mithilfe seiner Kreativität Punkte gewinnen konnte. Daraufhin wurde noch Jaina, die Probantin der MTB, vorgestellt - sie würde bei den Aufgaben als lebendige Zielscheibe herhalten sollen... was für eine mutige Frau!

Kane's Daemon defeating my companion
Kane's Daemon besiegt meinen roten Begleiter

Awards ceremony at the Baphometic Trade Centre
Die Geschenk- und Preisverleihung beim Baphomeict Tradecenter
Die Aufwärmrunde begann dann mit einem Test, um unsere Kampfkraft einzuschätzen. Diese war bei den Teilnehmern relativ gleichmässig verteilt, dennoch heimste Kane den ersten Punkt ein. Jetzt konnten wir mit ersten 'richtigen' Aufgabe loslegen. Jaina's Ausruf: "Strengt euch mal ein bisschen an!" weckte nun den Ehrgeiz der Teilnehmer. Die Überraschung stand uns aber einige Augenblicke später ins Gesicht geschrieben - es gab nun eine Drei-Frage-Runde, um unser Fachwissen zu testen! Hier glänzten einige mit schnellen Antworten, die Punkte wurden dennoch regelmässig verteilt.
Als nächstes mussten drei Zaubersprüche mit möglichst viel Schaden auf das lebendige Ziel - sprich: Jaina - gesprochen werden. Sie hielt alles mit stoischer Ruhe aus, zwischendurch wurde sie mit Heilungssprüchen wieder fit gemacht. Dank einem zaubersprechenden Bären und einem heraufbeschworenen zutraulichen Alligator gab es derweil viel zu lachen, wiederum verteilten sich die Punkte gleichmässig über die Teilnehmer.
Dann kam ein Schnelligkeitstest an die Reihe - Ziel war es nun, an einem genannten Ort eine Rune zu markieren und möglichst schnell zurück zum Baphometic Tradecenter zu gelangen. Der kurz darauf genannte Ort war der Zoo in Moonglow, die Teilnehmer flitzen nur so davon... einige mit Umleitungen über Jhelom, dank der Invasionsarmeen. Gleich danach ging es nochmals zurück zum Turnierplatz in Felucca, wo bereits die nächste und letzte Aufgabe anstand.

Cheers to the next ten years!
Hoch die Gläser und Krüge auf die nächsten zehn Jahre!

Historical armor and weapons from the MTB smithy and armory
Historische Rüstungen und Waffen aus der MTB Rüstungsschmiede
Nun war freie Zauberspruchwahl möglich, man sollte die Probantin auf eine möglichst niedrige Anzahl Lebenspunkte bringen, ohne sie zu töten. Die Spannung stieg nun auch bei den Teilnehmern, wer würde stählerne Nerven zeigen? Kane begann diesmal und schaffte es bis auf vierzehn Lebenspunkte. Amun in Gestalt des Zaubärs schaffte daraufhin knappe acht. Zalazar schickte Jaina dann aber kurz danach ins Jenseits - mit der harten Konsequenz von fünf Minuspunkten. Rincewind und ich konnten uns dann mit dem Gleichstand von fünf Lebenspunkten die Hände reichen. Leider musste ein Teilnehmer wegen überzähligen Reagenzien aus der Wertung genommen werden, sodass es dann zu einem Patt kam. Somit kam es zum Final zwischen Kane und mir. Jedoch durften zwei andere ihre Köpfe dafür hinhalten - unsere beiden heraufbeschworenen Daemons "Kane" und "Holzhammer". Der Kampf war dann eine relativ kurze Sache, da meine Taktik mit Blessen und Stärken nicht aufging: Kane's Daemon besiegte meinen souverän.
Nach den ersten Gratulationen gings dann zurück ins Baphometic Tradingcenter, wo die Preisverleihung stattfand. Xacharias überreichte allen Anwesenden einen goldenen Dolch mit den Insignien der MTB - die drei besten Teilnehmer des Magierturniers durften sich zusätzlich noch einen Preis aussuchen. Während die ersten Gäste bereits die Rückreise antraten, vergnügten sich die Übriggebliebenen bei Speis und Trank und liessen alte Zeiten Revue passieren. Dazu trugen auch die ausgestellten drei Rüstungen bei, deren Insignien von vergangenen Zeiten zeugen und in ihrer Fertigkeit auch heutzutage noch kaum übertroffen sind. In diesem Sinne trat ich dann auf meiner Heimreise den Umweg über die alten Auktionshallen an, wo ich den goldenen Dolch an einen Ehrenplatz - ganz in der Nähe des Schwertes mit den Insignien der MTB vom 9 Jahres Jubiläum vom letzten Jahr - legte. Und es kam mir so vor, als würden beide Klingen für einen kurzen Moment in der stillen, kalten Nacht im fahlen Mondlicht erleuchten...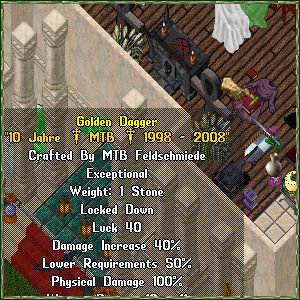 A gift from the MTB - a golden dagger with their insignia
Das Geschenk der MTB - ein goldener Dolch mit den Insignien der MTB
Happy Birthday, MTB - und auf die nächsten zehn Jahre! ;-)
Farewell, auf bald!
~ Medea