Deco Ideas: Caves & Caverns
A guide to the decorative aspect of caves.

If you're looking to create a cave or cave entrance without a lot of customization involved or for ideas on how to decorative your cave once you've customized it, this is for you.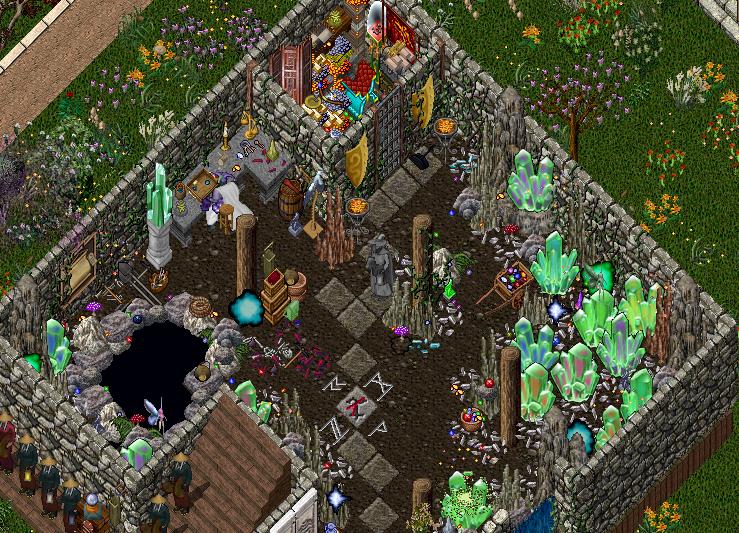 Hunter Moon's

Want to make a hole/tunnel in the ground?
Here's a few tips on how to make one that looks like Hunter Moon's.
Using gozas or cloth obviously it will come out square, You can soften and round the edges with rocks.
You'll need a house decorating tool and an axe.
To stack the rocks easily so you can raise them to your desired location place a trash barrel in the spot you'd like the rocks.
You can place the barrel by saying 'I wish to place a trash barrel'
Use the axe to chop the barrel once you put the rocks inside.
If you're nervous that you may lose connection and the rocks will be deleted, you can use a wooden container and chop that with the axe instead.
Remember that chopping that container will destroy it, so don't use one you aren't willing to lose.

Another example of a solen hive style hole: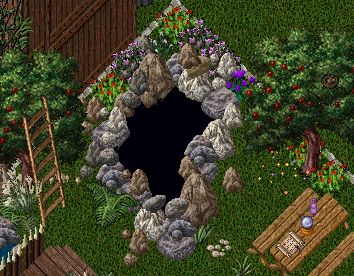 Vlad of Atlantic

Vlad also has a very unique idea, You can actually enter this hole. He's placed stairs beneath a part of it to enter his cave beneath.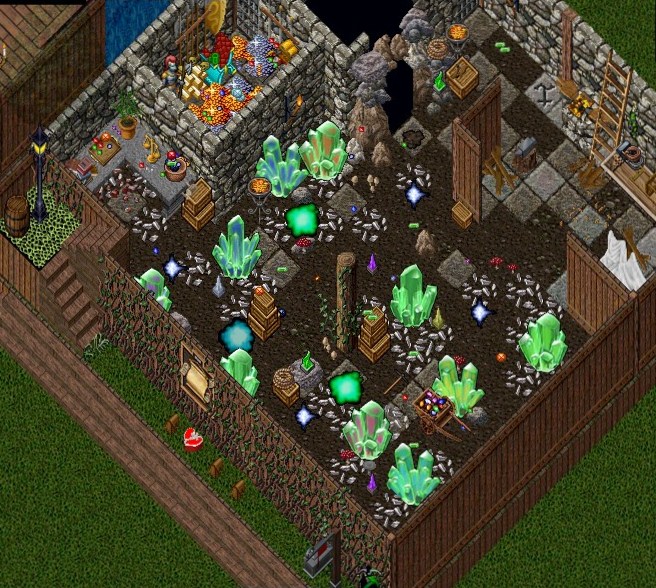 Vlad's Cave

These are both great examples of mining caves.
Here are some of the items featured in these caves and where they originate from.
Ore or Gem Cart (10th Year Veteran Reward)


Gems:
Small (Bought from NPC jewelers)
Large (Mined By Players)
Full List Of Mined, Lumberjacked, Fishing Gems
Crystal Shards (Lumberjacking)

Crystal Granules (Made from shimmering crystals)

Crystalline Fragments (Prism of Light)

Shimmering Crystals - Come In Multiple Color Schemes
(Shimmering Effusion Peerless at Prism of Light)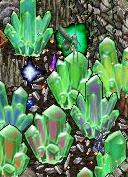 Power Crystals (Loot on Golems, Controllers, and Betrayers)

Hovering Wisp (Created by Alchemists)


Treasure Items
Gold Coins
Faction Silver
Scales (Tinkered or obtained from Cavern of the Discarded)

Treasure Chest
Jewelry
Gold Bricks - Can be stained with natural dyes (Minor Artifact - Level 6 T-Maps, Paragon Monsters, Fabled Nets)
Copper Ingots (Rare SOS drop)

Inspected Ignots (Quest in Ter Mur Royal City -Thepem or Zosilem )

Priceless Treasure (Abyss Stealable)

Misc
Mushrooms - Red (Heartwood) Purple (Solen Hive/Solens) Chaga/Black (Tomb of Kings)
Corruption (Peerless Ingredient)


Rocks
There's a huge variety of rocks that can be used to help decorate your cave or cave entrance.
Granite (Mined)
Plain or to add some depth Dull Copper or Bronze.
Rock (Doom Artifact, Stealable)

Rocks/Small Rock (Stolen)
Rubble Rocks (Magnicia Event)
They come in a wide variety of colors including whites, greys and browns.

Stalagmites & Flowstones
(Obtained from the puzzle quests in The Underworld)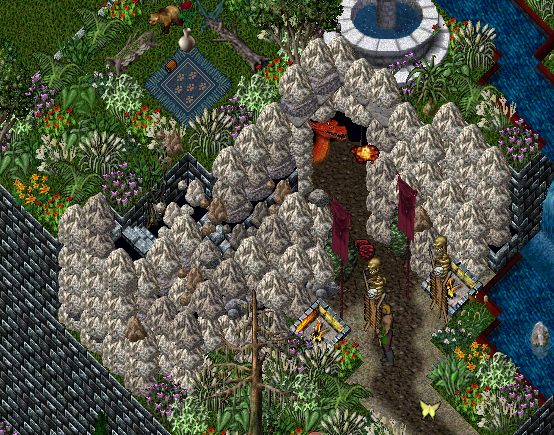 Tazar's Cave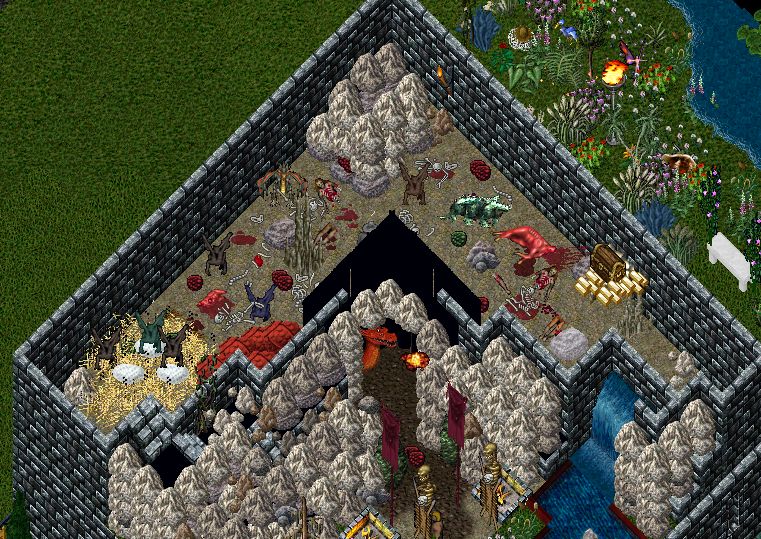 Evil Cave/Animal Home
Various bone or internal organ pieces (Zombies drop them often)
Bone Containers (Ant Lions)
Statuettes (Various Veteran Reward Statuettes like Dragons)

Stuffy Dragons (Valentines Gifts)

Doom Stealables




Dark Caves
Various Essence (Stygian Abyss Mini Champs)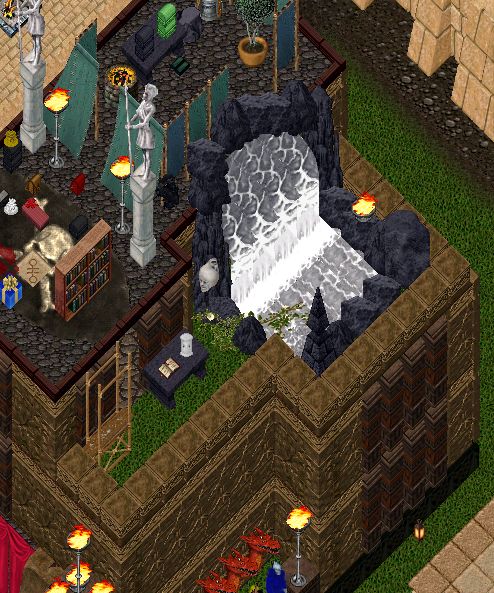 Skeletor

If you have the extra gold to burn the
Primeval Lich Champion
spawn in the Abyss has some good cave items.
Items include grave dirt, brambles and various black colored boulders and rocks.

Cave Entrances (Upright) - TommyGirl

Using stones and black dyed cloth or curtains you can make a standing cave entrance against a wall. A good space saver if you have a smaller home or don't want to invest a whole floor.
(Curtains come from heritage tokens)

Ice Caves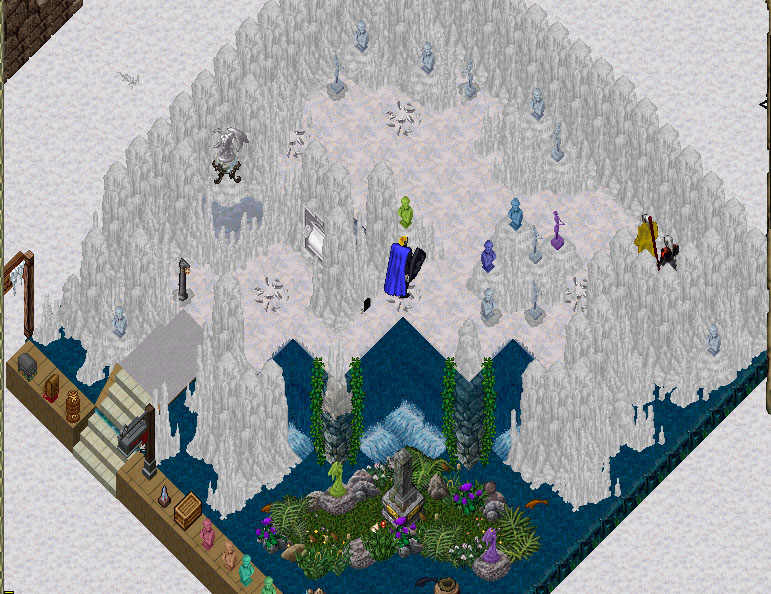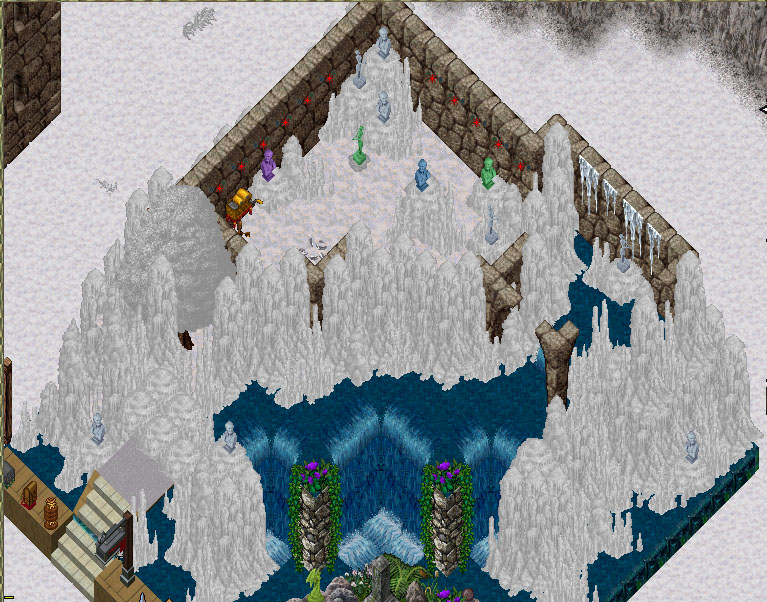 Faeryl

Snow piles were Holiday gifts from 2009.
Snow Tree is available from uogamecodes.
If you have vendors and cannot or don't want to put down snow tiles in customization..
Gozas made with white bod reward cloth, or the new carpet pieces dyed with white natural dyes will also work.
When dying the carpet pieces be away one charge can dye one stack as large as your pack is able to hold.. They do not need to be dyed seperately.
You can also use white dye to dye most furniture or decorative items.
Remember furniture needs to be made with any wood oak or higher, and cannot have been placed in your home previous to dying it if it is a deeded item.

I hope this has been helpful, I've really enjoyed making it.
If you have any suggestions to help your fellow deco hounds make their ideal cave, please add them below!
If anyone has any requests for future room/floor themes, respond or pm me. Thanks!