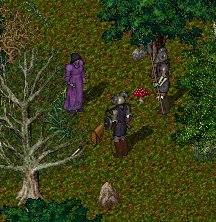 The events I'd witnessed at the attempted cleansing of the Humility shrine, struck a profound chord in my spirit. I had started toward my homelike room in Jhelom, but knowing I could not rest, I sat down in the town square and looked about at the milling villagers. A shepherd's crook jiggling on an old man's arm reminded me of Marcus' vanity and subsequent death, of Sara's absolute determination to cleanse the shrine - having us repeat the chant "Lum" again and again until we were all hoarse. (One time I slipped and said "Great Bob" but no one seemed to notice.) I could not merely go back to my room and pretend I had been unaffected by the ordeal.

I opened my pack and surveyed the contents. None of it meant anything to me, nothing held value. I rose again and headed toward the moongate at the northern tip of the island. I didn't know where I was going, or why. I only knew that I needed to go.

I wandered the woods, listening to the sounds of the animals and contemplating humility, sacrifice, and what Marcus Aggravaine had said once about man having much to envy about bees. At that time, I wasn't sure what he'd meant by that statement. Bees sting, make honey and live short lives, that was all I knew of them. I wondered what secrets Marcus possessed to let him know they were such enviable creatures. I decided that I would strike out for Cove to ask him.

Then, a snake decided to strike out and alter my plans.

The pain shot up my leg like a stream of fire. As the poison traveled upward, I could feel it coursing through my veins. My stomach flipped, then began to cramp, my throat tightened and then a horrible wooziness muddled my thinker. I was aware that I was stumbling, but had no way of controlling it. I reached out to the trees that seemed to be flying past me, but I could not grasp them.

My eyes felt as though they were vibrating, but still I could make out a figure in front of me. I struck out a hand and felt it being clasped, someone was helping me in my attempt to keep my balance. I leaned my head closer to the shape and was finally able to make out an orc helmet.

"Hallo? Do you speak English? Common?" To my own ears, my voice sounded strange and far away.

"Wud lut duin ere?" he grunted in response, answering my question with one of his own.

I managed a wry chuckle. "Dying."

He reached into his pack and brought out some bandages and a horrible smelling unguent. The pain began to ease immediately, though I still felt somewhat queasy and my head was fuzzy. "Ah, that is much better. Thank you."

"Meeb nu sum hummie blah," he replied, in reference to my previous question. "Wutch dis!" He stood away from me and flailed his hands in the air. "Kurp pur!"

I smiled weakly. "Very impressive."

He slouched. "Nu werk. Gah! Dis urrible."

A second orc approached from the line of trees to our south. He grunted a greeting at the orc who stood near me and nodded his head in my direction. "Shi gib tribut?"

My orc healer shook his head. "Nub yed."

I rose to my feet and bowed graciously to them both. "I am TigerLily, a reporter. I write for Stratics."

"Gib sum fuud," the healer demanded. "Ur shinies."

The second chimed in, "Gib tribut."

I patted my nearly empty pack. "I don't have food or shinies."

"Lat kin blah! Blah!" said the first.

"Gib tribut!" repeated the second.

The eyes of Orc Number One narrowed a bit. "Huw ubut lat gib urks fuud?"

"I have these things." I poured out the contents of my pack before them: a pair of scissors, a bandage, a spear and a dagger. They looked at one another quizzically, then back at me and my obviously pitiful possessions.

"Gah! Ere den! Eet dat!" One thrust a rack of ribs at me.

"Why, thank you!" The kind gesture surprised me. The ribs looked rather tasty, too.

"Nuw git!" barked Number One.

I was puzzled. They had been so kind to me. "Git?" I repeated.

"Lat nub gib tribut. Lat gu!"

Number two stood firm behind him. "Skat!" he ordered, pointing to the west.

"Gu!" Number One said again.

I didn't move. I didn't want to go. I wanted to learn more about them. "I would like to write a story about you."

Number Two picked the scissors out of the pile on the ground. He held them up. "Shi gib cutters."

"Scissors, that's right," I responded, a little irritated at the sudden and surprising dismissal.

He waved my scissors at me. "Skat!"

Number one pointed toward the south. "Gu blah tu majoka. Dem blah bedder! Meeb jus dum grunbt."

"What sort of tribute do you require, so I will know if I come this way again?"

Number Two paused, then said, "Dis ururl uzg. Gib uruk tingz."

I'd never seen anything by THAT name in the provisioner's shop. "Uruk things? I don't understand. I'm sorry."

He pounded his chest. "Uruk!"

"Is that your name? Uruk?"

"Gra," he responded.

Number One looked himself over. "Meeb isb urrk!"

Number Two pointed at Number One. "Him uruk."

Number one, pointed to himself. "Dis urrk!"

I apologized for my lack of comprehension. "I'm very sorry. My orcish is terrible. Uruk is orc. I got it."

"Dat hummie blah!" Number One spat. He somehow managed to introduce himself and his companion. He was Zorc and Number Two was Gra'thunk. "Hummies nub blah guud. Dem reelie nub usb der." He stuck out his dark little tongue at me.

"What sorts of things do orcs like?" I asked again.

"Fuud agh ragz," Gra'thunk told me. "Dat guud tribut."

"Enuff su dem ulweys blah funni. Dem run anf blah! 'Guardz! Guardz!" Zorc was still ranting about how humans talk too much.

I nodded affirmatively to Gra'thunk. "Very well. If I find some, I will bring them. Thank you for healing me. I hope you don't mind, but I sketched your picture to put in the paper I write for. It's called 'Stratics.'"

Gra'thunk scratched his neck. "Wut dat?"

"I write stories."

"Wut dat?" his head tilted to the side, still scratching.

"I tell about places I have been or people I meet. I will tell the hummies that I spoke to you."

"Whi?"

"Hummies like to hear stories."

:Oomiez iz week. Dem iz panzeez."

I wanted very much to observe their clan, to see the inside of the orc fort and perhaps learn more about them. "Gra'thunk, do you think that I could go to your village with you? Meet your clan?"

His head shook emphatically. "Dem nub likee omiez. Whi lat wunt tu gu tu urukz?"

"To learn to communicate, to talk to the orcs."

His head continued to shake. "Dem nub kar abut dat. Lat iz oomie."

"There may come a time when the orcs have a problem," I offered, "with the humans. If I spoke the language, I might be able to help."

"Dem ulweyz have dat wit oomiez. Oomie kum agh clomp urukz."

"Maybe I could help. Maybe I could help tell the humans to stay away, give you peace."

He spat. "Dem nub lissin. Oomie tupid. Dem berrie tupid. Dem kum'n tu uruk uzgs and clomp'n urukz."

"I didn't come for that. I came to learn more about you."

"Nub let Drutha heer dat. Shi clomp lat!"

"Who is Drutha?"

"Gra's lairmate. Shi nub likee feoomiez ur feorcz blah'n tu Gra." He fell silent for a moment, watching me as I returned the things to my pack. I heard a small sigh behind his heavy horned helm. "Lat kan gu suwth. Rurk furt dere. Dem will want tribut."

"But I told you, I don't have anything."

"Den tel dem lat gib tribut to Gra."

He would not accompany me. Zorc had wandered off some time earlier and Gra wished to find him so they could hunt together. I thanked him and he disappeared through the trees. I set out toward the south, as he'd instructed, looking and listening for other signs of the orcs who would be patrolling this area. My nose told me I was very close to their camp.

I spotted the crude log fort not too far away. Shouting and boistrous laughter could be heard coming up over the spiked walls. I crept closer, then stood at the entrance in full view. I wanted them to understand I had come in peace. The heavy wooden gate opened and an orc stared, expressionless, at me and grunted. "Bah." He stepped out, joined by another. They folded their arms over their chests, waiting.

"Hello," I said, smiling. That wasn't so difficult, after all.

"Gu blah wif dat oomie," I heard through the gate. The gate opened and the two that had been standing with me went inside. Erroneously, I interpreted this as an invitation to join them and I followed.

"OWT OB FURT!!"

They were ordering me to leave, but had jammed in so tightly around me, I couldn't budge an inch. Before I could blink, I was surrounded and shackled.

"Tak hur priznur? Tak hur priznur?"

"Er gut sumtin tu blah me gruks."

"Shi blah?"

"Yub shi blah."

I stammered, trying to tell them who I was and why I was there. Strong, grubby hands examined my clothes, my pack, my hair. One of them grabbed my face and looked into my mouth.

There was one near me who actually seemed to understand me. "Lat write blah?" He turned to the orc beside him who'd been thumping his shoulder to get his attention.

"Clomp?" the thumper asked.

"Nub." His eyes told me that he was in a quandary. I surmised by the way the others held back and looked to him for his reaction that he must be one of the leaders. He didn't want to let them kill me. Apparently, I was as big a curiosity to him as he was to me. Still, he had his reputation to consider and did not want to appear soft before his clan.

The decision was made for him. "We takin lat priznor!" jeered one of my captors and he yanked at the chains binding me, dragging me over to what looked like a pig pen in the corner. They removed the chains, but tossed me inside and locked the gate behind me. The throng pressed hard against the fences, watching to see what I would do next. I stayed still and quiet, trying to pick up on the mumbles and comments.

"Shi say she scribble oomie blah."

"She schmell guud."

"Wut happun wen wes breed Crag wit fehummie?"

"Dat wut wee gunna find owt!"

"BREED?!" I screeched. They could snoop my belongings, sniff my hair or touch the cloth of my skirt if it appeased their curiosity, but I was drawing the line at this suggestion.

My outburst amused some of them and a wave of wheezing guffaws worked its way around the pen. I didn't hear the bow release, but I saw an arrow whiz by me. Reflexes moved me back two steps and I was against the fence. A hand came through and pinched me. I yelped. I saw the orc that had pinched me reach out to do it again.

I swatted at his hand. "Stop that!"

The orc next to him slammed his fist down upon the pincher's head. "Nub bruise!"

Another roar of laughter. Two more arrows singing past me.

"Crag lykes im fiesti!" cheered a voice in the crowd.

"Nub bruise! Id ruinns da stew!"

One of them jumped into the pen with me. He grabbed me and was trying to throw me down into the straw and muck. I raised my knee and slammed it strategically below his waist. A loud, "Ooof!" and he was writhing in the mud.

"Oo shi tuff."

"HAR!"

"HAR HAR HAR!"

"Gi got clomped bi fehumie!"

I kept a safe distance from the incapacitated orc. "Who's the leader here?" I asked defiantly.

"Me tinks shi meen da boss."

"Gi neeb skat. Har!"

Small bottles began flying over the wall, shattering and exploding around my feet. Fragments of glass bit into my skin and I could feel the sting of many small cuts and burns.

"KUT DAT OWT! NUB CLOMP! NUB CLOMP HER!"

The one I'd communicated with near the entrance pushed his way through the crowd and stood at the fence, frowning at my pitiful estate. He motioned for me to move closer and touched a rag to my cheek, tending a cut there. His tone was gentle. "Oomie, wut lat kom eer tu blah?"

"I came because I wanted to know more about your clan, to learn to speak the language."

"Wut lat wan tu gruk bout uz blah?"

"I want to know why there is so much distrust between humans and orcs."

"Dat da way it alwayz been."

"I want to know about your clan."

"Urks are in da clan. Den dey hab rukhs. Den wiftin doz rukhz lat hab triibs which ib littul grups ob orks."

I raised my hand slightly to stop him. "Wait. What is rukhs?"

The orc next to him nudged him hard. "Lat konfyuuzin hur!"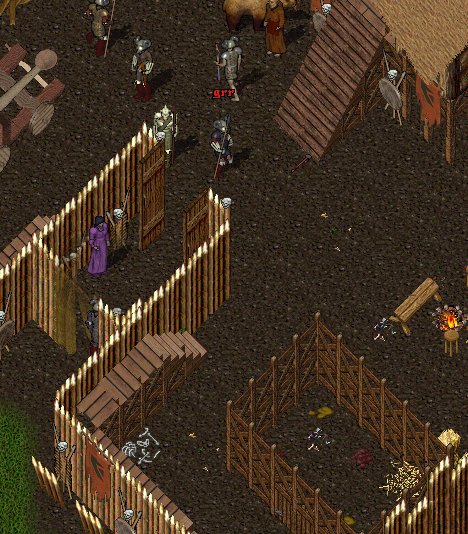 The kind one shoved back. "Me da only ash nub stikin me butt at ur! Tryin tu blah!" He scowled and returned his attention to me. "Rukh iz agh armi. We hab dub rukhs ere. We hab da Hukor - dem weer green boots like Throk haz."
Out of the corner of my eye, I saw an orc jump the pig pen fence and amble toward me. "Breedin' tyme." He grabbed my shoulder, attempting to pull me away from the fence. His eyes narrowed at the kind orc. "Dis me breeder."
I knocked his hand from my shoulder and snarled at him. "You will NOT breed with me. That is simply out of the question."
Another orc came into the pen and dragged him away. "Get owt."
The breeder slumped, disappointed. "Wi nut?" Then, he was tossed over the fence.
The kind orc gestured for me to come near him again. He was chuckling softly, shaking his head. "Me tink we juz lozt all change ob makin senz to oomies. Wut wuz me blahin? O, yub... bout rukhs. Su wut lat nub gruk bout da rukhs?"
A face pressed against the fence, snapping at me with broken teeth. I squealed and recoiled. The kind orc laughed. "Him nub biit. Him juz ugli."
He gave me more details about the clan, about their priests, "kuuls" who wear red boots and told me a bit about their god, Krath.
"What is one thing that humans seem to think about you that is wrong? What do you think they don't understand?"
"Win we clomp lat we nub take all lats tings. We juz taak wut we need." He turned to hear what the fellow next to him was saying and translated it for me. "Orks ib da rulerz ub da ugz, earth."
"What do you wish humans would know about you?"
He was ribbed by one of his clansmen. "Let dem know dey taste guud in soup!" This earned a big hearty round of laughter. Another chimed in, "Dem neeb gruk dat uruks am far supeeruir tu dem." No laughter followed this remark. It was clear this was a fact, not a joke.
"Dem pushdug sissis!" one of them spat.
The kind one regarded me seriously. "Orks all togeddur. Lats oomies clomp ech uddur. Id funny."
I nodded. "That's sad, isn't it? They don't have the clan spirit that you do."
Another pushed forward to state his opinion. "Humies hide en der huts agh behind gurds."
The kind one's head bobbed in agreement. "Dats riit. Agh dem fiit like bunch of panzees. Run in dem houze. Agh run by da guards. Dat wussi wey to clomp."
A skirmish broke out near the gate and two orcs came crashing through it. I saw the opening and knew it was a good time to make a move for freedom. A group of orcs surrounded me, trying to shove me back into the pen, but the kind one grabbed my hand and wretched me from them, toward the entrance of the fort. I was caught in the middle of an immense tug of war. There were shouts to kill me, cook me, breed me and to let me go. My arms and legs seemed to be going in opposite directions. I couldn't hold back the screams of pain. Something conked my head. A flash of pain. Bright light. Darkness.
The kind one was wrapping my wounds with tattered rags when I opened my eyes again. When he finished, he hefted me over his shoulder, glaring defiantly at them to prevent another assault. He carried me out of the fort. None tried to stop him this time. Gently, he set me on a log, checking me over to make sure all the damage had been attended. "Dem bunch of gazata."
"Gazata?" I asked weakly. I was exhausted. All I wanted was sleep. I touched his hand. "What is your name?"
"Mahk'Chak. Me." He pointed to himself. "Lat wantud tu ask mor tings? Wut elz lat wan tu gruk?" He was trying so hard to make up for what had happened, to apologize for the ways of his clan.
I wanted him to know that I understood. "Mahk, I knew it was dangerous for me to come here. They do not trust humans. I understand. I am not upset."
He smiled, ragged yellow teeth glowing at me. "Har. Me gruk lat harmlez. Wen dem git in groops, dem get all krazii. Har. "
"Is there anything I can say to the humans for you? Do you want me to take a message to them?"
He sighed, scratched his chin and said, "Gib Mahk bak his tings dat lat obur lootin pushdogs tuuk! Har! Ib me gits anitin bak, me gonna be amazed. Har!"
"I would be, too," I chuckled. "Anything else?"
"To blah to oomies? Hrm.... Aktually me sey sumtin reason. Yub. Kom attack an wen lat do, nub be ress clompin uz agh toopid stuff liik dat."
I wanted to be sure I understood him. "You WANT them to come attack your home?"
He nodded emphatically. "YUB! YUB! Orks society iz all bout clompin. Dats all we do."
Two more orcs approached us. Mahk'Chak pointed to each, introducing them. "Throk. Ibb'Git."
Ibb'Git, having heard the conversation, offered, "Wargod happi wen humies am skreemin. Tell dem tu bring lots ob tribute tuu. Shinies, fuud, kloff."
"Dat whad we lib fer," laughed Throk. "Fuud agh drinkees!"
Throk handed me some charred meat. "Take dis fer lat's trabbles. Trabble guud."
They bid "gug'ye" to me and I farewell to them. I could hear them grunting to one another as they disappeared into the dark shadows of the trees.
Humility. I didn't need a shrine to learn that virtue, to feel the power of it. Here, among these simple creatures, I had found it, viewed it from both sides. I vowed never to return to another shrine. The shrines of the soul were all around me, and that was all the virtue I needed to see.
[Information about the Shadowclan Orcs, as well as a glossary of some terms which appear in this article, may be found here]