A Quick Look At Rustic & Gothic Decor
For those a little behind, Last week two new booster packs were released. One labeled Gothic and one Rustic.
Each pack came with new wall tiles, a few deco items, and two 'extras' that came with the boosters.

For the Rustic pack, the extra was a Raised Garden Bed.
Description of the item given by EA is the following:
"The Raised Garden Bed is a maintenance free gardening plot. Once your garden is setup and seed planted, in 7 days you will have a healthy plant you can remove at any time."
It can be placed as several sizes: 2x2, 3x3, 2x3 or 3x2.


For the Gothic pack, the extra was a Chest of Sending.
Description of the item given by EA is the following:
"The Chest of Sending allows you to send your extra items you do not want in your house to your bank without ever leaving your house."



Rustic Theme Pack Walls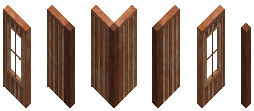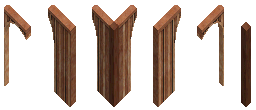 Rustic Theme Pack Stairs



Rustic Theme Pack Craftables

The Rustic Bench is made by Carpenters.
It costs 35 boards.
It can be made in south or east directions.
If you wish to dye this item with natural or tokuno dyes, you must create it using any of the color woods.
(It must be a freshly crafted bench, if the bench has been placed once you will not be able to dye it.)

Topiarys can be made in the shape of a goblin or llama.
They're crafted by using Clippers on hedges or Juniper Bushes.
(Be sure to set your clippers to topiary!!)
They can be cut to face east or south.


Distillerys are something many players have wished for and finally received.
They're crafted by tinkers and can be made to face south or east.
It will take 4 heating stands (tinker), 1 copper wire (stealable item & rare loot from pirate ships), 2 Metal Kegs (blacksmith) to create one distillery.

Also needed to make your own liquor:
Empty liquor barrel - carpenter crafted
Yeast - dropped by orcs
Wheat Wort - made by cooks
Various vegetables depending on what kind you're trying to craft. Bowls of Corn or Potatoes (Inns & Taverns sell them), Honeydew Melon (NPC Farmers sell them, Bunches of Dates (Stolen or Begged), & Tribal Berries (Loot on savages.) Pitchers of wine or water are also needed for some recipes, as well as jars of honey.

Gothic Theme Pack Walls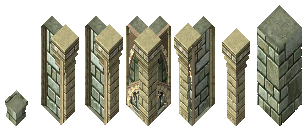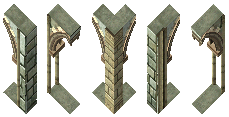 Gothic Theme Pack Stairs


Gothic Theme Pack Craftables
Gargoyle statues can be crafted by carpenters that have used the stone crafting book sold by the gargoyles.
It takes 20 granite, and can be made in any of the stone colors.
They come in two forms and can be turned with a house deco tool.


Ritual Tables can be crafted by carpenters with stone crafting.
It takes 8 granite and can be made in any of the stone colors.

Advanced Training Dummies can be crafted by tinkers and train your weapon skill to 60. (Old training dummies only train skill to 25.)
They're available south or east facing.
It takes one training dummy (carpentry), 1 platemail tunic (blacksmith or bought at an npc blacksmith), 1 close helmet (blacksmith or bought at an npc blacksmith), & 1 broadsword (blacksmith or bought at an npc blacksmith.)


I apologize that it took me so long to post this information.
This week I will be posting deco ideas I've found with these new walls and items. If you have a screenshot or house you'd like included pm or icq me (107296451).
I will also be starting work soon on my New Magnicia house spotlights as well as my Gilfane town pictorial.
Have any requests? Let me know.