QA
Black Cobra: With regards to the Moonglow Beer Garden, I was wondeirng if it would be possible on the rebuild to put up a small bust of statue to Talos who built the original.
Emile Layne: Good Suggestion! If anybody can remember the story behind the garden email me.
Lady Flame: Whats with the elder title?
Emile Layne: All EMs who have been with the program since the beginning got the elder title. Sarakan has also been with the program since the beginning, He just hasn't seen Mesanna yet to get his title.
Angel: I have a cluster of houses and would like to apply for player run town, How do I do that?
Emile Layne: There is some information on the Town Recognitions system on the website
http://europa.uoem.net
Serafi: When will the Meer realize they are at war with the bane?
Emile Layne: I don't know.
Aron: Could you tell us if the mini-event today requires Mesanna and if so will it be run again if not do you know when the Compassion Sage will stop spawning?
Emile Layne: Yes, Mesanna was the special guest we had planned for today, The sage was unrelated.
Edge: Is EM a paid position?
Emile Layne: Yes
Callisto: News on event continues with meer and bane war?
Emile Layne: I can't give you much more information about that.
Nimuaq: When is this elder party going to be held?
Emile Layne: Good question! I say we celebrate when the beer garden is rebuilt.
Traveler: Are you from Europa or America?
Emile Layne: I'm from somewhere in Europe.
Thor: Is there a list of do's and don'ts when proposing a player made event?
Emile Layne: No there isn't.
Flame: I liked how you did the serpentwyne events, was something for most if not all playstyles.
Emile Layne: Thank you very much
That was my baby. Events like that are a LOT of work, So sadly I can't do them too often.
Aron: Is there any limitations on allowing unique tames in events? I don't recall ever seeing any on any shards, Like for instance, 5 slot Greater chickens.
Emile Layne: There are a LOT of limitations on that. Do you remember the dragon event last year? That was on the edge of what I can do really. (The dragon once bonded could be killed and it had inside a reward.)
Traveler: Does drow storyline ended with all infected dragons and elves?
Emile Layne: The storyline with the Drow is over yes.
Traveler: Only miners leftover?
Emile Layne: We just have the miners as an after-effect. Personally I consider the Serpentwyne events as a seperate story though obviously they came forth from the Drow events.
Hex: So the Serpentwyne story is still going?
Emile Layne: Yes it is.
Blade: Is an em event going to run us into the Magincia rebuild?
Emile Layne: I don't have any details on that yet, But it seems so, yes.
Hex: What powers do you have?
Emile Layne: Well I can't really go into details about that, But I could become a pink Daemon if I wanted...
Hex: What about a rainbow Daemon?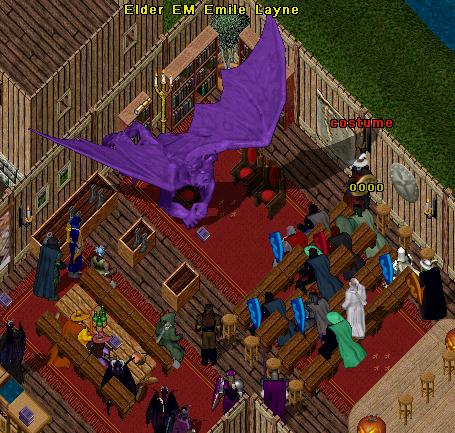 Nimuaq: Can you ressruect Lord Blackthorn?
Emile Layne: I'd get into a LOT of trouble if I did that.
Blade: How come EM Sarakan doesn't get involved with us like yourself?
Emile Layne: We all have our own styles Blade, These kind of meetings just happen to suit me more than him. He has other strengths.
Franz: Like your hooded robe with a 1 hour lifespan
Emile Layne: My robe isn't an actual piece of clothing, It's like my body.
Ayara-bee: So you're naked now?
Emile Layne: Erm... right.
Emile Layne: I have a question to as you! Recently a player mentioned to me they found our arcs / stories last too long. Which made it hard for them to keep up with the story.
(There was a general mixed response to this)
Emile Layne: So would you say it's fair to conclude the following: The length of the arcs is fine for regulars who keep up with Stratics and such but too long for those who attend more casually.
Blade: Have you something good planned for Halloween this year?
Emile Layne: The Halloween events are usually global events.