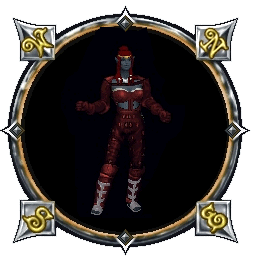 It was a splendid evening, the autumnal sky colored orange-red, and my way to Skara Brae Bank pretty windy and chilly. My anticipation to meet Lady Queenie was big, I had the pleasure to experience her and her sisters famous raffles in the past. As I approached the building which was lying quietly in the twilight, the vivid tamer was already waiting for me. She waved to me and we waited a short time to meet Lord Nachteule, whom I bothered once with my questions too. He would keep us company.
Soon, we hit the road towards the desert (Compassion) and changed to the bare-branched world, Felucca. After a few minutes we entered the quiet and very stylish Keep. In the dining room where we were to be seated, there were already dozens of candles and small fire source which gave off a comfy warmness. On the table barbecue there were some chicken legs, sizzling in the oil. Some wine and champagne also waited for us.
A few moments later, Queenie began answering my questions and telling her stories. Her sister Shara was the first one who travelled to Britannia more than eight years ago. She and her sisters followed her later. The small family soon established it's own guild, "Die Wilden Weiber Britannias". They began earning gold with small and respectable work. Whilst one repaired armor from warriors at the Britain Smithy, the other one was rambling from one moongate to another, singing songs to the travellers for a small fee. «This was not always a safe job», Queenie stated with a big grin. «Sometimes there were evil people lurking around, who killed or payed, on a whim.» I responded that I hope they mostly payed, but she was laughing out loud now: «Rather not.» Despite all adversities the sisters stayed. Even as of today, the "Femme Fatale" of the guild is singing at the moongates sometimes - but unfortunately less frequently than in the past. Soon, we talked about Natascha Baumkind, the youngest of the sisters. She should be well known to West Britain Bank visitors, because she does her raffles there, and they are always a lot of fun and a hilarious opportunity to get to know other people.
Outside we heard muted sounds and Queenie commented them with a shrug: «Brigands.» Nachteule, who had been sitting quietly until now, headed downwards and obviously put things in order, because only moments later he returned with a bloody blade. «Sorry», he murmured, «but this was a need of mine.»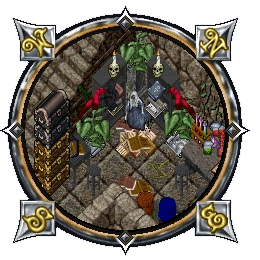 Queenie continued with her stories. «My friend, Lady Marisa, introduced me to the old bloke», she said, smiled, and nodded towards Nachteule. «Over the years we were learning a great deal about people and country. We made friends and experienced dozens of adventures. These were the times where one could stand in the middle of the dragons in the Ice-Dungone, after a misleading moongate. On my first Nightmare. And that was before the bonding between Tamer and Animal...» Queenie giggled. «The world was soon painted in grey colours.» But then, Lady Marisa had to leave all the worlds. Silently, Queenie pointed to a marble statue. «It was an outworldly matter, barely an event within Sosaria, but it was a dramatic experience.» The Tamerlady looked gloomily over the statue again and carried on. «There was a time when Trinsic was occupied. Back then, my guild sent me for my qualifying test on the way and back. I had to survive, that was all.» She was smiling again. «Oh, and I remember my first tamed nightmare without being murdered by Howard One. Aye, those were very fascinating times near the Keep in the Lost Lands.»
The chicken was eaten and the wine drunken as Queenie made her last statement: «It's pixels! They always were and always are! What really counts are the people behind those, and only these.» Outside, the blackness had already seized the countryside. As I trotted home, those words were still ringing in my ears.
Biography of Lady Queenie
Name: Lady Queenie, WBB
Profession: Legendary Tamer
Arrival in Sosaria: 1999
Favourite place: Twisted Weald with the wolfs, Destard with the dragons
Occupation: travelling, taming, make music
Favourite character: Tamer
What do you prefer...
Summer or Winter? Summer
Black or White? Black
Loud or Faint? Faint
Poor or rich? Look at the birds of the heaven, that they sow not, nor reap, nor gather into granaries, but your heavenly Father nourishes them ;-)
*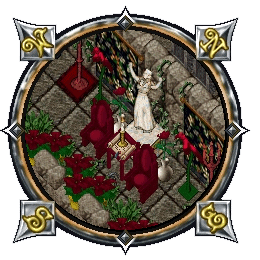 Der Abend war herrlich herbstlich orange-rot gefärbt, der Weg nach Skara Brae zur Bank windig und kühl. Die Vorfreude auf das Treffen mit Lady Queenie war gross, hatte ich doch in der Vergangenheit schon ihre bekannten Tombolas erleben dürfen. Das Gebäude lag ziemlich verlassen in der Dämmerung und als ich näherkam, sah ich sie schon warten. Die lebhafte Zähmerin war ganz in eine rote Lederrüstung gekleidet und winkte mir fröhlich zu. Kurz danach sollte noch Lord Nachteule zu uns stossen, der uns Gesellschaft leisten würde, und den ich ebenfalls schon einmal mit meinen Fragen belästigt hatte.
Wir machten uns auf in Richtung Wüste (Mitleid), und wechselten auf die blattlose Welt, nach Felucca. Kurz darauf betraten wir das ruhig gelegene und sehr stilvoll eingerichtete Schlösschen. Im Speisesaal, wo wir es uns schliesslich gemütlich machten, verströmten Dutzende von Kerzen und kleine Feuerquellen wohlige Wärme. Auf dem Tischgrill brutzelten bereits Hähnchenschenkel und der Wein und Champagner stand ebenfalls schon auf der Tafel.
Dann begann Queenie auf meine erste Frage hin ihre Geschichte zu erzählen. Dass ihre Schwester Shara vor über acht Jahren als Erste Britannia besucht hatte, und ihre anderen Schwestern nach und nach folgten. Die Geschwister hatten auch bald schon ihre eigene Gemeinschaft, eine Gilde gegründet, "Die Wilden Weiber Britannias". Sie begannen mit kleinen aber feinen Arbeiten ihr Gold zu verdienen. Während die Eine an der Schmiede in Britain Reparaturen für Krieger vornahm, zog die andere von einem Mondtor zum anderen und besang Reisende für ein kleines Trinkgeld. «Dies war nicht immer ungefährlich», meinte Queenie mit einem breiten Grinsen. «Manchmal lauerten auch böse Menschen an Mondtoren, die je nach Lust und Laune töteten oder zahlten.» Auf meinen erstaunten Blick hin und die Zwischenbemerkung, dass ich doch hoffe, dass sie eher zahlten, meinte Queenie, nun in schallendes Lachen ausbrechend: «Eher nein.» Trotz aller Unbill blieben die Geschwister im Land. Und auch heute noch soll die "Femme Fatale" der Gilde an den Mondtoren singen - wenn auch seltener als zuvor. Bald kam die Sprache auf Natascha Baumkind, die jüngste der Schwestern. Sie sollte den West Britain Bank Besuchern ein Begriff sein, denn sie veranstaltet dort ab und zu ihre bekannten Tombolas, die immer sehr fröhlich und lustig sind, und eine hervorragende Gelegenheit, neue Leute kennenzulernen.
Draussen vor der Schlosstüre hörte man gedämpfte Geräusche, die Queenie nur mit einem Schulterzucken kommentierte: «Räuber..» Nachteule, der bisher schweigend dabeigesessen hatte ging in das untere Stockwerk und schaute offensichtlich nach dem Rechten, denn kurze Zeit später kam er mit blutverschmierter Klinge zurück. «Entschuldigt», murmelte er: «Aber das war mir ein Bedürfnis.»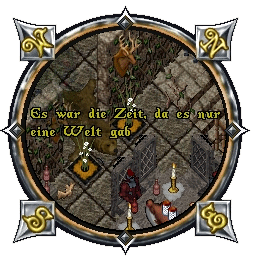 Im Schein der Kerzen erzählte Queenie dann weiter. «Meine Freundin, Lady Marisa, machte mich mit dem ollen Kämpfer bekannt», sagte sie und nickte in Richtung Nachteule. «Mit der Zeit lernten wir so Land und Leute besser kennen, schlossen Freundschaften und erlebten Dutzende von Abenteuer. Das war noch zu Zeiten, wo man mittels Mondtor plötzlich bei den Drachen im Eis-Dungeon stand», meinte Queenie. «Auf meinem ersten Nightmare. Damals gab es auch noch kein festes Band zwischen Zähmer und Tier...», meinte sie vieldeutig grinsend. «Die Welt war dann schnell grau.» Leider musste Lady Marisa dann alle Welten verlassen. Stumm deutete Queenie auf eine Marmorstatue. «Es hat wenig mit Sosaria zu tun, aber es war ein einschneidendes Erlebnis.» Bedrückt musterte Queenie nochmals die Statue und fuhr dann fort mit ihren Erzählungen. «Als Trinsic besetzt war, verlangte meine erste Gilde von mir als Aufnahmeprüfung, den Weg nach Trinsic und zurück heil zu überstehen.» Sie lächelte nun wieder: «Oder mein erstes gezähmtes Nightmare, ohne dass mich Howard One abgemurkst hat. Jaja, beim Keep in den Lost Lands, das war eine sehr spannende Zeit.»
Die Hähnchen waren verzehrt und der Wein getrunken, als Queenie mir noch ein letztes Statement mit auf den Weg gab: «Es sind Pixel! Es waren immer welche und es werden immer welche sein! Was zählt sind die Menschen dahinter, und nur die.» Draussen vor der Schlosstüre hatte die Dunkelheit schon Besitz vom umliegenden Land ergriffen. Und als ich nach Hause trabte, klangen mir diese Worte noch lange in den Ohren.
Steckbrief von Lady Queenie
Name: Lady Queenie, WBB
Beruf: Legendäre Zähmerin
Ankunft in Sosaria: 1999
Lieblingsort: Twisted Weald bei den Wölfen, bei den Drachen in Destard
Lieblingsbeschäftigung: Abenteuer erleben, Zähmen, Musizieren
Lieblingscharakter: Zähmer
Was magst du lieber...
Sommer oder Winter? Sommer
Schwarz oder Weiss? Schwarz
Laut oder Leise? Leise
Arm oder Reich? Und sehet die Vögel am Himmel, sie säen nicht, sie ernten nicht, und der Herr ernährt sie doch ;-)
Farewell, auf bald!
~ Medea