Genn Wintord



UP: Britannia


Construction began recently on two memorials in Britannia. The first is being built on the west side of Britain and will commemorate those who were murdered or gave their lives battling the Followers of Armageddon. The second is in Trinsic and is in memory of CrawWorth and his expedition to the new lands. All in his party sacrificed their lives to bring information and new opportunities in a new lands.
Stone has already been purchased and is being transported to the memorial sites. Stone workers from across the realm hath offered to donate their time and expertise toward crafting the memorials. Led by Pierre Du Ciance of Minoc, the stone crafters are enthusiastic about this project and glad to be taking part.
To aid in making these memorials truly special, Nystul has offered his services and intends to add more to them than mere stone and wood. To achieve this, he asked for help in collecting some materials and items. His student, Hynteg, met with volunteers at the Britain Public Library and explained what was needed. Among those items, Nystul requested they find some blackrock that possibly remained from the Followers of Armageddon's hidden supply.
Also requested was the stolen engagement ring Sir Duquelle had intended to give to Lady Lena when he asked her to marry him. The ring was finally found among the remains of Gthunk. FOA members had taken the ring when the abducted Sir Duquelle. The FOA Leader held the ring until being pursued by the troll GThunk through the Deep Forest which surrounds Yew. The troll took the ring when the FOA Leader abandoned it and his other belongings in his haste to escape from the troll. When the troll died in the dungeon Shame, the trolls recovered GThunk's remains and returned them to his homeland east of Vesper.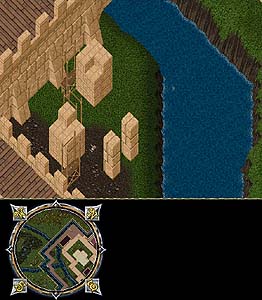 Another item Nystul required was a journal written by Relvinian. The estranged and missing mage had complied his notes and thoughts on imbuing speech into inanimate objects, allowing them to hold messages and such. The book was found in the maze which was also constructed by Relvinian.
As construction gets underway, both memorials will undoubtedly be a welcomed, though heartrending, addition to the realm. I, for one, intend to visit them often.
From the Town Cryer - The Journal of Ultima Online, Monday, February 22nd 1999