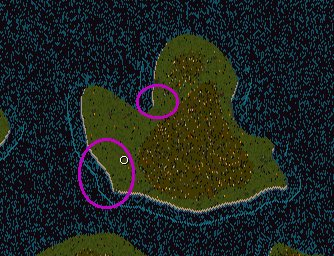 Last visited by GreyPawn - March 12th, 2000

I visited the Wyrm's One Good Eye on a jaunt about the realm to freshen up my geographic savvy and to socialize with the local inhabitants here in Dalriada. After the long trek to the Rune Library to locate a rune, I found myself a might winded, so I thought a refreshing pitcher, or two, of milk would be most gratifying in the tropical heat of Dalriada. Around about the Tavern I found the warriors of TK sparring and jousting, seeking to hone their skills in battle and combat, such as TK is known for. The few gristled people I encountered were rather kind and welcoming to me, and the overall feeling of the island is that of benevolence.

The tavern itself is located on the western shore of the island of Dalriada, which can be found east of Arx Draconis. One can travel there by boat from Trinsic or Britain, or via recall rune as I myself did.

Hours of operation of the Wyrm's One Good Eye Pub are around about 7:00 p.m. to 10:00 p.m. [EST] and is staffed by the local members of "The Kingdom" (TK). Hours of operation are loose, although, most inclined towards level of activity there.

At the Wyrm's One Good Eye Pub, one can find merriment and fraternization with a heaping tankard of ale and a side dish of venison to boot. I highly recommended visiting this island, and interacting with its peoples, as often times they can be most entertaining.