Welcome to the 4th Super Stratics Saturday! I ditched the 'Post-Halloween' idea because I think last weeks episode was enough! Lets get started.
Remember Remember the 5th of November!
Its Guy Fawkes this Monday! So get your sparklers and fireworks out and light up your back yard! But do be careful *nods*.
This week I visited the Vesper area, 'The Swaggers Inn' and the small collection of shops at the north bridge, 'Vesper Shop Bods', 'Yika Shop' and 'Vesper Shop'.
Also, Screenshot Saturday with screenshots from the Magincia battle, The news from last week and events next week!

- ESTABLISHMENT -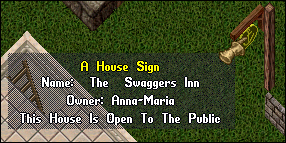 This weeks establishment is in Vesper, Just off the south west bridge of the city its the first building on your right. Immediately the glory of the decoration and design hits you, Its The Swaggers Inn! The tavern is open almost all the time whenever there is a barkeeper there. The building belongs to roleplay guild Vesper Trading Company (VTC) and is active most nights after 8pm UK Time.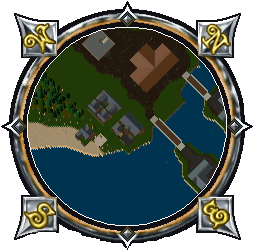 It contains a fair amount of rares scattered around the house, I personally like the colourful bottle rack found behind the bar.
If your interested in visiting it for yourself, Check out the map to the right. It is in Trammel.
I managed to catch a word with owner Anna-Maria,
---
Mapper: Of course the first one is obvious. When was the tavern first started? Same location as it is now?

Anna-Maria: Well VTC first started running the Marsh Hall NPC inn in Vesper, for a few months then Garret and Yiveth came into ownership of the Swaggers Inn, in exactly the same place as it stands now (but a bit smaller!). And I think it opened in something like September 2003 (a month or two before my time)

---

Mapper: I was told the house has had many different designs, Is this something that happens often? Or are you quite happy with its look now?

Anna-Maria: It's had its fair share of reworkings over the years, mostly before I was about. I'm a bit lazier so I've only changed it maybe 3 times. Personally I'm happy with the look as it is now, but I'm not active now and I just don't have the energy to go through the sheer hell of redecorating.

I'm not exaggerating that it takes several solid days' work to redecorate the Swaggers (including finding all the bloody stuff again), and several true rares (like sheet music) have been lost over the years in the depths of the Swaggers packing crate.

---

Mapper: What day and time is the tavern open? And what day would you say is most busiest?

Anna-Maria: Well the tavern has always been open all day and all night, it just depends on whether any of the bar staff are there.

There have been times when VTC has been at its prime that it literally was open all day and night, with several of us roleplaying from morning till 4am - which is unfortunately not the most productive use of a day!

There's never really been a busiest day, except for a typical lull on Fridays - but the time when it is most active is 8pm onwards generally.

---

Mapper: You said you weren't very active now, But have you seen Kingdom Reborn? What do you think of it?

Anna-Maria: Oh, I think a lot of the art in Kingdom Reborn is unimpressive, but I am one of the few people who seem to be very much for it. From the few minutes I have wandered around in it with KR, Britannia feels like a very different place, and that is always a good thing. The forests feel more woody, the spells look more sparkly, and the characters move more swaggery.

I will certainly come back to try out Kingdom Reborn, but I do think that a lot of the art is clunky and unattractive - it just looks lazily done to me!

Mapper: 2d items, KR interface and landscape.. Id be happy :-)

Anna-Maria: Agreed

---
After the interview I took a good look around the tavern, Here are some screenshots I took.
>> Click here to see the KR versions. (I didn't want to make the article too long by including them!) <<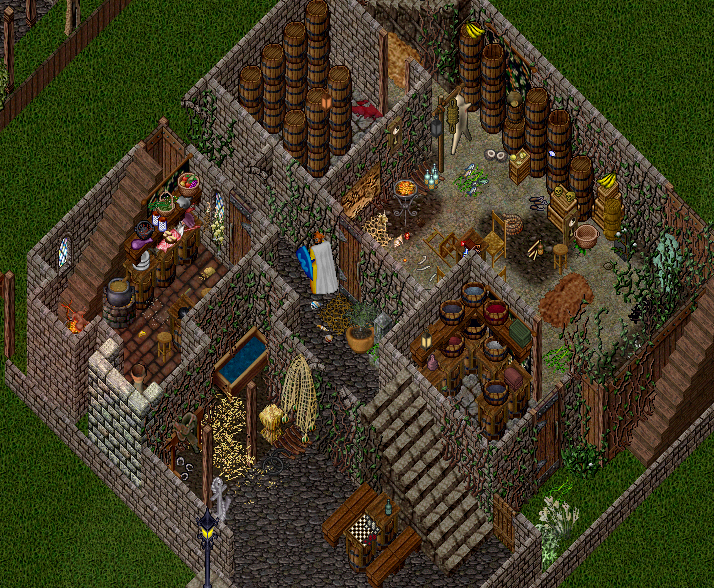 The bottom floor, Used as a storage area.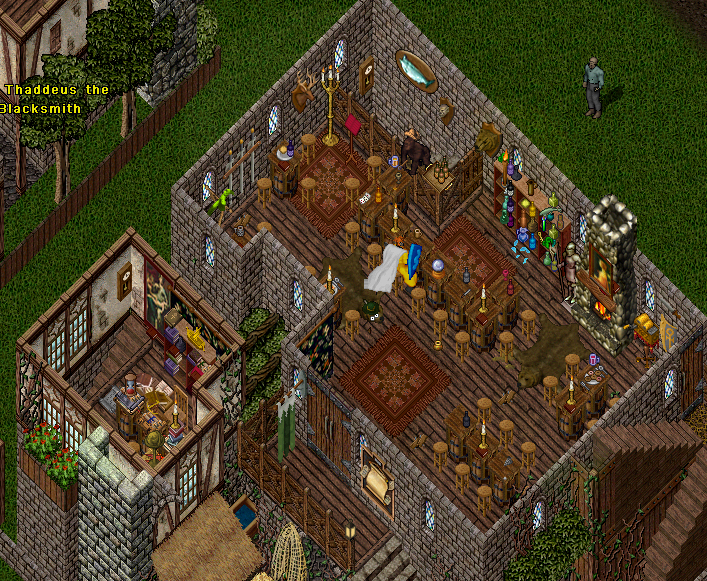 The Tavern Floor.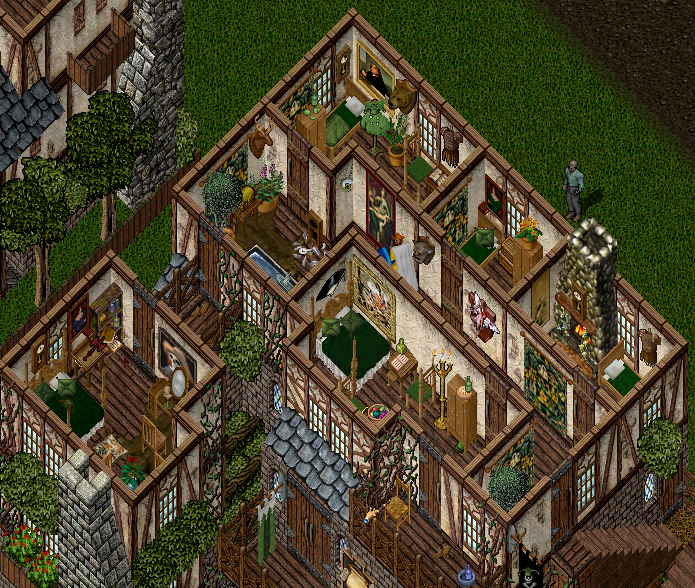 The 3rd Floor, The Bedrooms.

- Shop of the Week -
This weeks shop of the week is actually 3 separate shops! All located within a screen or two of each other. They can be found on the north east bridge from Vesper on your left.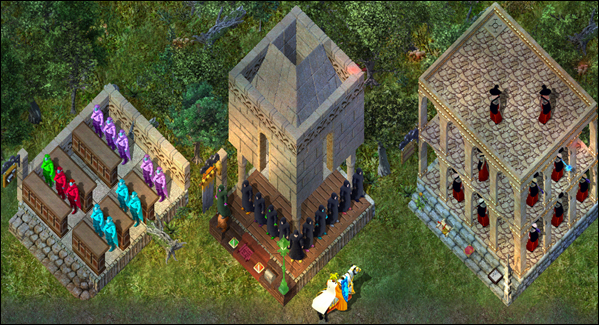 From left to right you have 'Vesper Shop Bods', 'Yika Shop' and 'Vesper Shop'.
Selling things from Treasure Maps, Luck Items, Armour & Weapons, Vet Rewards, Tokuno Artifacts, Barbed Runic Kits and Ingots. The shop to the left contains BOD vendors for every type of BOD.
You may ask why these shops? Well I've known there to always be shops in this location, So there!

Halloween has started! But? Halloween is over? Yes! But Magincia is in need of your help! It seems the ghosts didn't get the hint that they leave after Halloween. Magincia can be accessed by boat or by using the free ferry at Trinsic Docks, Moongates and recalling into has been disabled.


A brief glimpse of Magincia.

There is an OPEN HARROWER TONIGHT!! At 8pm UK Time. Gates will be provided from Britain Bank

Events next week,
On Wednesday the 7th Nov we have the 176th edition of Leto's Europa Auction, 7pm UK Time, Gates provided at Britain Bank.

Also on Wednesday we have the 11th edition of Leto's new Europa Auction Lottery, The draw is at 8:30pm UK Time at the auction house after the auction. Tickets can be purchased from vendors, One of which is at the auction house. So buy one before the auction! You never know! Gates are provided for both auction and lottery at Britain Bank.

Checkout www.europa-auction.com for more details.

And now for the final piece of today's episode. As always its.... Screenshot Saturday! If you want to have your screenshots here next week email them to [email protected] !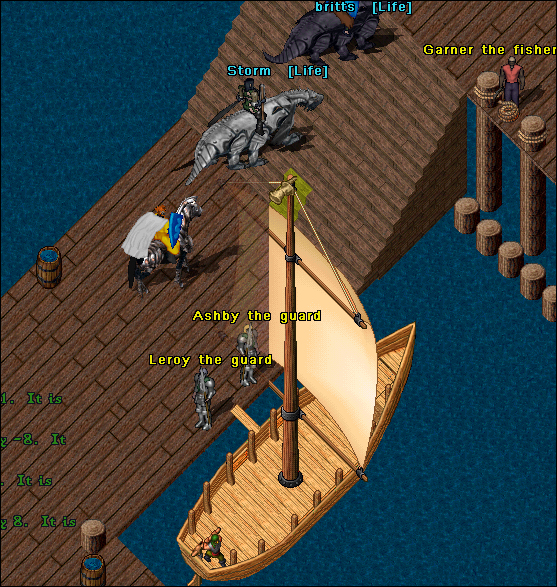 Stepping off the free ferry from Trinsic.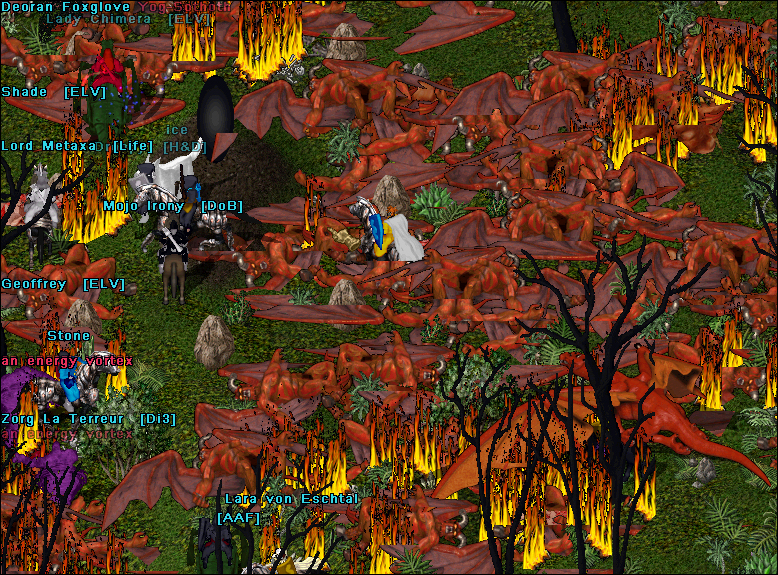 The first wave at Magincia Moongate.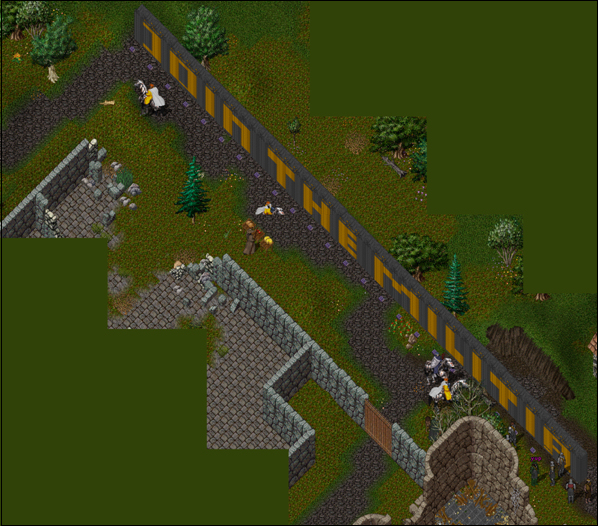 A Guardsmen Militia advertisement earlier in the week, Found near New Haven.
Thanks for reading another jam-packed episode of SSS, Join us for the 5th SSS next week!