- Establishment of the Week - The King's Deer - Bar and Restaurant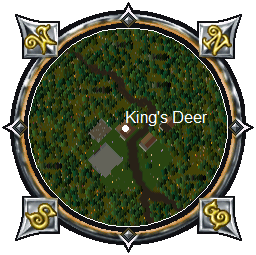 This weeks 1st establishment is the 'King's Deer - Bar and Restaurant'. Located in Stonekeep.
The tavern itself is located right against the main road, The building a wonderful stone and plaster home. Location of Stonekeep? Check out their map located at their website by clicking here.
Their website can be found at: http://www.guvadan.net/guardsmen/
I managed to speak to the owner, Carolyn Lawrence, but before I tell you what we she had to say, Lets take a walk around the tavern.
2D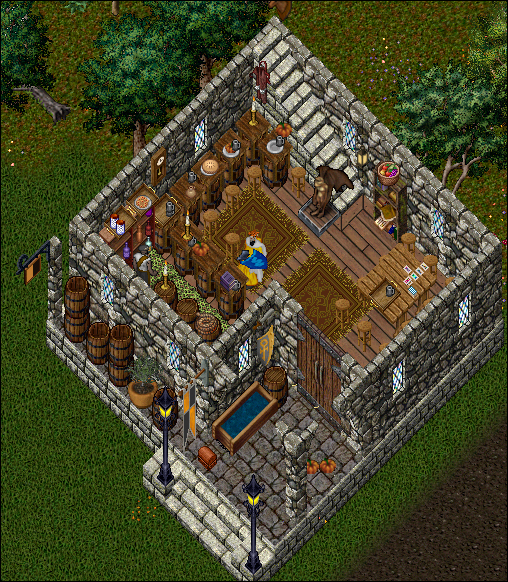 The main tavern floor.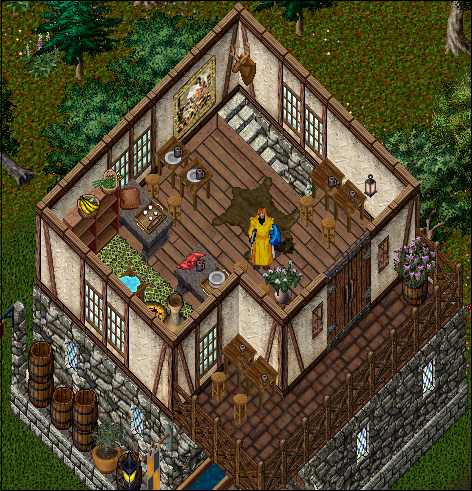 The 2nd floor.
KR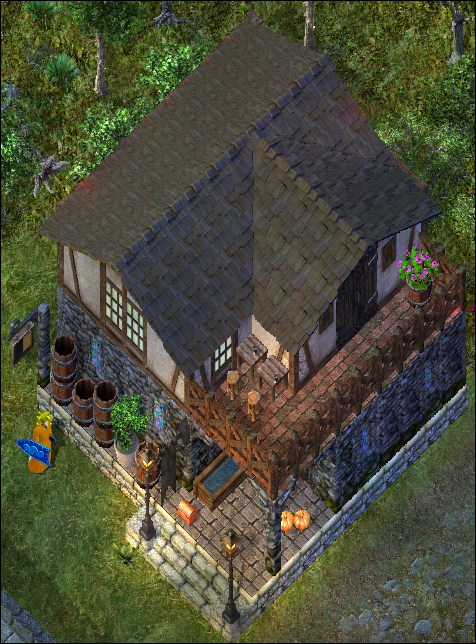 The outside view of the tavern.

The main tavern floor.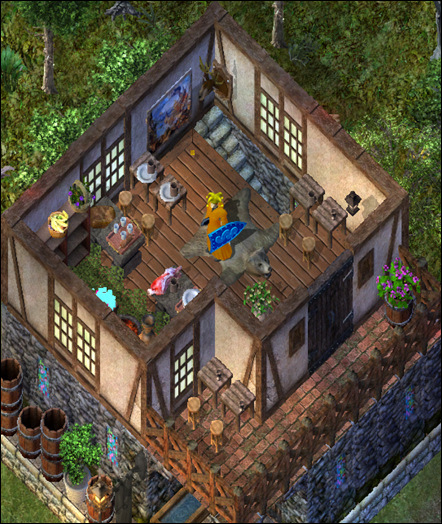 The 2nd floor.
I managed to speak with the owner, here is what she had to say.

Mapper: So you run the King's Deer tavern, Which is in Stonekeep, I've always known there to be a tavern there but I remember it as a Villa. When was this changed? Were you always the owner?
Carolyn: The King's Deer has seen many changes but hasn't been a villa since at least 2005. Over the last couple of years it's seen alternative uses such as a meeting hall but is now back to being a tavern, with its most recent design taking place earlier this year.
Carolyn only took over the reigns of The King's Deer upon its recent redevelopment but the property is still and always will be Guardsmen Militia owned. In character the management always lease the property from Stonekeep.

---
Mapper: I visited the King's Deer this morning, I've been around a few taverns, Its certainly a small and cosy tavern, Is this a good thing? Or would you have liked it to be a little larger?
Carolyn: It needs to be small and cozy for it to work I think. Although it would be nice to have a little more space to work with, we can always expand out into the road if necessary for larger events.
The cozy feel works in its favour and whilst the militia would prefer it to be seedier and dirtier it works well enough in its current state.

---
Mapper: Would you say the tavern is the central location of Stonekeep in the evenings? Or is there another building most people locate?

Carolyn: The exterior of the tavern is pretty central to Stonekeep. Everyone's always stood around the outside and loitered nearby when on duty for as long as Stonekeep's been in existence, when off-duty the tavern is definitely where most activity will take place.


---

Mapper: Last question, A little different, Kingdom Reborn, Do you play it? What do you think of it?

Carolyn: I don't but that's more down to being stuck in my ways. I prefer the interface of 2d it's simplistic and easy to use and I'm not so willing to learn how to play UO all over again. KR's okay. To me the graphics aren't nearly as terrible as some people make out and I quite like the look of it but not enough to try and play UO through it.

Mapper: And that's all, I thank you verrrrry much! :-P


---
A big thank you to Carolyn for taking time to answer my questions, Please do check out the tavern, Pop round in the evening! Ill bet you you'll find activity!